Gaffer tapes : Matt finished cloth tape--doesn't reflect light;
Stage tape, Camera tape: strong cloth tape in many colors - use for stage marking & color coding;
Spike tape : narrow, colored gaffer tape for stage marking;
Chroma key tape: The specially blue color gaffer tape for chroma key use.
It is widely used in theatre, photography, film and television production, and industrial staging work.
Cloth tape for sealing film cans-block light and seals tight;
Cloth or vinyl-sticky on both sides-great for temporary carpeting;
A printed gaffers tape-like product for cables in high traffic zones;
A "tunnel" type tape-no adhesive stripe down the center;
Felt-like cloth tape-use for drapery repair and masking;
Protects industrial and electrical materials from friction.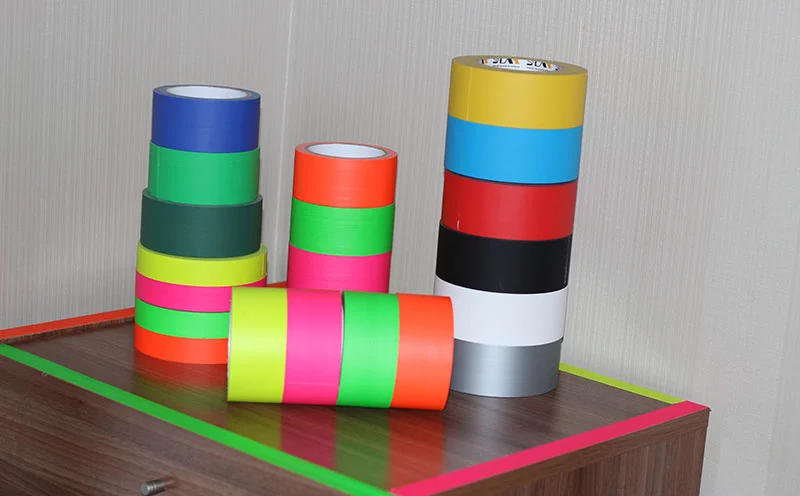 Gaffer tape is manufactured in many colors, including fluorescent and custom colors. Gaffer tape matte finish keeps the tape from reflecting light so it blends in with a typical stage floor. It is strong yet can be torn by hand, so no cutting tools are necessary, and it can easily be ripped into narrower strips when desired. The natural rubber adhesive typically leaves no residue and will generally not damage most surfaces when it is removed. It is usually more expensive than duct tape because it is manufactured in smaller quantities, has more exacting specifications, and is marketed for professional use.
A common application for gaffer tape is securing cables to a stage floor, podium, or other surface, either for safety or concealment. It is also frequently used whenever a quick ad hoc fix is required, from temporarily attaching fixtures or props, to salvaging a broken piece of production equipment. A narrow version of gaffer tape, called spike tape, is used in theater productions for floor layout.