Splicing Tapes are widely used in manufacturing industries such as pressure sensitive adhesive coating, flexible film and paper coating, commercial printing, newspaper printing, pulp & paper manufacturing, corrugated board manufacturing, converting, die-cutting, as well as roll tabbing and core start-up.
The Splicing tape include Repulpable splicing tape and Non-repulpable splicing tape.
1.Repulpable Splicing Tape Applications
Repulpable splicing tape used for paper mills, newspapers, web printers to join 2 rolls of materials to increase the length or provide continuity of substrate. Repulpable splicing tape can be recycled to the paper pulp in water. The Repulpable splicing tapes backing and glue can be dissolve in water.
Flying splice tapes as Paper splicing tape most commonly used in paper manufacturing industries, to attach an already machine threaded paper reel to the new paper reel. This process of splicing the paper reels allows operators to avoid lengthy downtimes and run continuous production without having to re-thread the material through their equipment.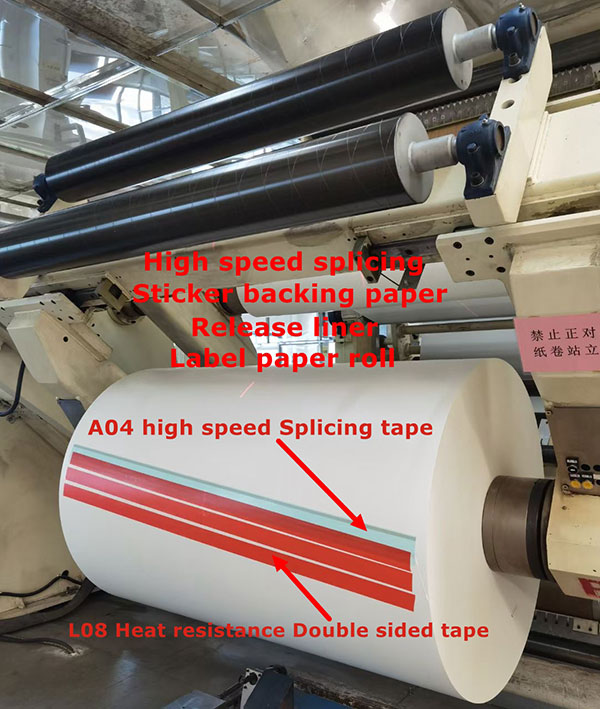 2.Non-Repulpable Splicing Tape Applications
Non-Repulpable splicing tape is designed for splicing release coated paper and film in elevated temperature or in conditions where initial high tack is required, for photo processing, in label or pressure sensitive coating applications that require a functional splice and for butt splice/overlap splicing applications.
The splicing tape can be used for Performing flying splices, manual splices, core starting and roll finishing applications.