Adhesive cloth tape is an easy tear cloth backing coated with natural rubber adhesive use for packing, masking, ducting, sealing, decorating with variety of type and colors.
Cloth tape's backing maybe consist of cotton, polyester, acetate, nylon, rayon woven or non woven fabrics. It maybe coated with natural rubber adhesive or hot melt adhesive.
SLAA providing high quality cloth tape:
Base carrier: 65% Polyester + 35% Cotton
Backing: LDPE coated cloth with release agent
Adhesive: Natural rubber with synthetic resin
Adhesive cloth tape is an natural rubber adhesive tape made with a cloth backing to make it durable, flexible and easy tear by hand. It provides cloth surface, remove no residual.
The adhesive cloth tape is useful for various purposes such as packing tape, duct tape, repair tape, masking tape, gaffers tape, spike tape, stage tape, carpet tape, medical tape and so on.
Single-sided cloth tape: the adhesive is coated only on one side of the cloth backing.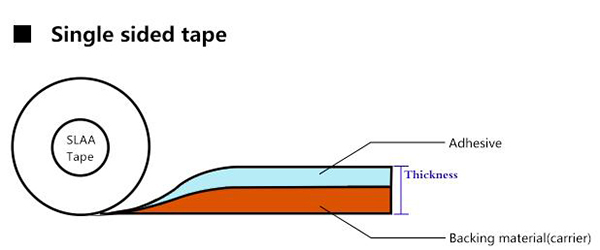 Cloth Tape Data sheet
| | | | | | | |
| --- | --- | --- | --- | --- | --- | --- |
| Code | Mesh | Tape | Thickness | Peel adhesion | Application | Color |
| 30S | 30 | Duct tape | 160um | 1.1Kg/25mm | Bundling, Seaming, Packing | A variety of colors |
| 40L | 40 | Duct tape | 170um | 1.5Kg/25mm | Bundling, Seaming, Packing | A variety of colors |
| 40D | 40 | Packing tape | 200um | 1.0Kg/25mm | Bundling, Seaming, Packing | A variety of colors |
| 40G | 40 | Duct tape | 260um | 1.0Kg/25mm | Bundling, Seaming, Packing | A variety of colors |
| 50E | 50 | Packing tape | 220um | 0.7Kg/25mm | Bundling, Seaming, Packing | A variety of colors |
| 50G | 50 | Duct tape | 270um | 1.0Kg/25mm | Bundling, Seaming, Packing | A variety of colors |
| 70S | 70 | Packing tape | 270um | 1.0Kg/25mm | Bundling, Seaming, Packing | A variety of colors |
| 70G | 70 | Duct tape | 300um | 1.0Kg/25mm | Bundling, Seaming, Packing | A variety of colors |
| 70M | 70 | Masking tape | 300um | 0.6Kg/25mm | Masking, painting masker | Green, Blue |
| 80GT | 80 | Gaffers tape | 300um | 0.7Kg/25mm | Production crews in television, motion pictures, concerts, and live shows | Matte Black, Matte White, red, yellow, blue, silver, green |
| 80CK | 80 | Chroma Key tape | 300um | 1.0Kg/25mm | Chroma key screen background | Chroma key green, blue |
| 80SP | 80 | Spike tape | 300um | 1.0Kg/25mm | Stage marking, DJ Mixing Board | Fluorescent Green, yellow, pink, orange |
| 80PET | 80 | Military tape | 300um | 1.0Kg/25mm | Military, aerospace packaging | Olive green |
| 100GT | 100 | Gaffers tape | 310um | 2.74 N/10mm | Production crews in television, motion pictures, concerts, and live shows | Matte Black, Matte White |
| 140STR | 100 | Packing tape | 360um | 4.7 N/10mm | Heavy goods packaging | Black, White, Red, Green, Yellow |